There's nothing more difficult and confusing than choosing the right insurance, whether it's health, homeowners, or auto. There's so much information that it's sometimes hard to digest, so we've sifted through it and are here to help you make well-educated decisions about your future. In this article, we outline 15 questions that you should ask your agent when shopping for health, homeowners, and auto insurance.

Health Insurance
1. Is my current provider available in the plan?
If you have a current doctor that you are loyal to, it's worth asking your health insurance agent if he or she is covered under the plan you're considering. We all know the struggle of finding a doctor that we are comfortable with, on top of one that knows our health history. It's worth noting, if you are considering a PPO, keeping your same doctor may cost you a bit more out-of-pocket, but could be worth the extra expense. Weigh and calculate your options.

2. What's my deductible?
In other words – how much will you have to pay out-of-pocket on treatments and procedures before insurance kicks in and starts to cover costs? The cheaper your monthly premium, the higher the deductible. Do the math. If you see a doctor regularly, consider opting for a more expensive monthly premium but a lower deductible. And keep in mind – most preventative services are covered without use of the deductible – think shots, screening test, vaccines, etc.

3. What's my co-payment?
This is a big one, as this is the amount you'll be paying out of pocket every time you see a doctor. Should you expect a small flat fee around $10, or will it vary by provider and be upwards of $100? Generally speaking, your co-payments don't count towards your deductible. So this is something you'll want to factor into your budget as you'll still need to meet your deductible on any treatments or procedures that you receive.

4. Is there a pre-existing condition exclusion period?
It's not uncommon for health insurance companies to place limits or exclude benefits for a period of time for a medical condition that you had prior to selecting and enrolling in the health plan. Make sure to ask your agent if they have an exclusion period, what they define as a pre-existing condition, and how long their exclusion period lasts. There's nothing worse than getting caught in the middle of an expensive procedure with no help on payment.

5.What will my monthly premiums be?
Monthly health insurance premiums vary drastically from person to person depending on their monthly budget, desired deductible, any dependents you have, and if your place of work is covering a portion of it. We recommend checking out AffinityCoverage to get the best health insurance quotes in your area, for up to 30% off.
Sponsored: Today's Healthcare Made Easy. Get Free Quotes. Click the banner below.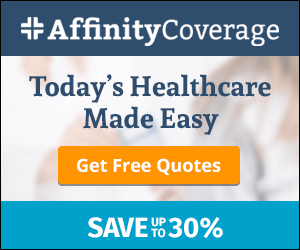 Homeowners Insurance
1.What does my homeowners insurance plan cover?
You're correct to assume that homeowners insurance doesn't cover every disaster. It will cover the most common situations: fire, windstorm, hail, lightning, smoke, explosion, theft, vandalism, riot and vehicle collision. It likely will not cover earthquakes, flood, power failure, war, nuclear explosion, or neglect. Make sure you ask your agent and fully understand what it covers before signing on any dotted line.

2. Do you have any discounts available?
The safer your home is, the more discounts and special rates the home owners insurance company can offer you since there's less of a chance for a catastrophic event. Some common discounts: bundling/multi-policy, having a monitored burglar and fire alarm system, having an impact resistant roof, installing new wiring, plumbing and A/C, living in a gated community, new home discounts, having an HOA, paying in full, and even being a first time customer and/or homeowner. Don't skip this step.

3. How much homeowners insurance do I need?
This will differ for everyone. You should base your estimate off how much it would cost to rebuild your home. If you live in an older home, have additional structures on your property such as a shed or garage, or if construction costs run high in your area, consider insuring over market price so you are fully covered.

4. Are my personal belongings covered?
Most homeowners insurance policies offer a built-in personal coverage of 50% of the dwelling limit. For example, if you choose a $200,000 policy on your home, it's standard to receive $100,000 in personal property coverage. If you have expensive furnishings and personal belongings, ask if that percentage can be increased. You'll likely pay a bit more out of pocket, but the added coverage may be worth it.

5. So how much is this going to cost me?
Again, this is going to be different for everyone depending on how much coverage you need and the city/state that you live in. According to the Insurance Information Institute, a standard policy costs homeowners about $1,100 a year. We recommend checking out MyQualityCoverage to find and compare the best homeowners insurance companies before making a decision.

Sponsored: Insure Your Home for Less. Save by Comparing Plans Today. Click the banner below.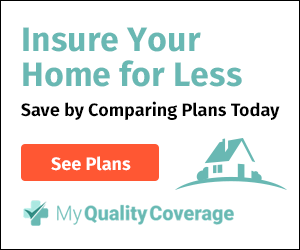 Auto Insurance
1. Will my policy cover other drivers of my vehicle?
What happens if a family member or friend borrows your vehicle and is involved in an accident? What about if you are driving someone else's vehicle and are involved in the accident? How these situations are handled will all depend on your insurance company, if the person driving has insurance, and the laws in your state, so it can get a bit confusing. Generally, if a friend who has their own car insurance is borrowing your car and is at fault in a collision, chances are, they're covered. But, which company will actually handle the claim and send payment for damages can vary based on the accident, damages, who is officially at fault, etc. Ask your agent how the plan you are considering handles these situations.

2. What type of parts will be used to repair my car after an accident?
Many auto Insurance companies are going to take the cheapest route in repairing your vehicle after an accident. On some discount plans, insurance companies will request the use of second-hand parts instead of brand new parts to complete the repair. You may pay less with the used parts, but is a slightly lower monthly premium worth having 10 year old parts on your 1 year old car? Make sure you fully understand what you're getting yourself into here.

3. Does the policy include 24/7 towing and roadside assistance?
Some auto insurance companies offer 24/7 towing and roadside assistance built into their plans as a perk. You never know when you'll get a flat tire, lock your keys in your car, or need to have your battery jumped. Having this extra layer of protection puts your mind and wallet at ease.

4. Do you offer any discounts?
Auto insurance companies have the ability to offer discounts on your premium in certain situations. The most common is if you pay on an annual or bi-annual basis instead of quarterly or monthly. Some other common discounts that they can offer are: accident-free, safe driver, parking in a garage at home and work, new car, anti-theft, anti-lock brakes, low usage and mileage, and military and senior citizen discounts. Asking this question is the easiest way to shave money off your premium.

5. How much does Auto Insurance cost?
This rate is going to vary drastically depending on the type of coverage you select (full or liability), your city/state, the type and cost of your car, and any past violations. For example, a driver who has an older vehicle in Little Rock, Arkansas, selects liability only, with no past violations will likely pay $30/month. Another driver who has a brand new Tesla in San Francisco, California with two past violations may pay upwards $200/month. To find the best rates in your area for the coverage you are looking for, check out Get-Auto-Quote.
Sponsored: Lower Your Auto Insurance Rates. Compare rates to save on your policy today! Click the banner below.