*In a world facing mounting environmental challenges, the need for collective action has never been greater. P&G Good Everyday presents an empowering initiative that allows you to effortlessly contribute to the well-being of our planet.
By becoming a part of this impactful campaign, you not only gain exclusive rewards but also actively support charitable causes dedicated to environmental preservation. Let's delve into the realms of P&G Good Everyday and discover how you can play a pivotal role in shaping a sustainable future for all.
Earn Rewards and Get Ready to Ignite Change
With P&G Good Everyday, your every action carries weight and purpose.
You can take the first step towards change just by joining the platform. Get rewarded in simple steps like immersing yourself in captivating quizzes, enlightening surveys, or even by simply scanning your receipts featuring P&G products. Each interaction accumulates valuable points, which you can later redeem for a plethora of exciting rewards. From coveted gift cards to thrilling sweepstakes entries, the rewards are as diverse as your engagement.
So, get ready to embark on this transformative journey, knowing that the more you participate, the more you earn.
Click the banner below to find out more!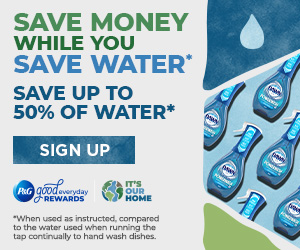 Donations that Forge a Difference: Fueling Charitable Causes
At the heart of P&G Good Everyday lies an extraordinary commitment to championing charitable causes.
As you earn points and unlock rewards, P&G automatically extends its support to the very causes that resonate with your values. This profound gesture comes at no cost to you, effortlessly channeling resources to organizations that tirelessly protect our planet. By simply being a part of this program, you become an agent of positive change. It also helps in contributing to the safeguarding of our environment and the preservation of its awe-inspiring beauty.
Nurturing Our Natural Heritage: Planting Seeds of Change
By enrolling in P&G Good Everyday, you directly contribute to the restoration of our natural heritage. With each new member, P&G takes an extraordinary step towards reforestation efforts, planting a tree as a testament to your commitment.
Through your active participation in P&G Good Everyday, you play an integral role in restoring and preserving these essential ecosystems, ensuring a harmonious coexistence for generations to come.
Join the Movement, Empower Our Future!
P&G Good Everyday is far more than a mere rewards program—it is a movement that aspires to build a better world for future generations.
By engaging in this visionary campaign, you become part of a passionate community dedicated to safeguarding our planet. Remember, every action, no matter how seemingly small, possesses the potential for a collective impact. Through P&G Good Everyday, you hold the power to enact change and create an enduring legacy for the environment.
Play Your Part in Fostering a Sustainable Tomorrow!
As guardians of this precious planet, we bear a shared responsibility to embrace meaningful action. P&G Good Everyday empowers you to seamlessly integrate environmental stewardship into your daily life. By signing up, engaging with the platform, and redeeming rewards, you actively contribute to the charitable causes that safeguard our planet's well-being.
It is time to join this remarkable movement and be an agent of positive change. Together, we possess the capacity to leave an indelible mark, crafting a sustainable future for all. Embark on this transformative journey by visiting P&G Good Everyday – It's Our Home.
Let us pave the way towards a greener, brighter tomorrow!
*This post is sponsored and/or is an ad.