Is there anything better than waking up and drinking your first cup of coffee? Waking up, drinking your morning brew, while reading The Morning Brew!

I don't typically stay subscribed to very many email newsletters. I'll sign up, read a few of the daily emails, then unsubscribe because 1) they just don't interest me, or 2) the amount of ads they try to sell me makes it all seem a bit inauthentic. The Morning Brew was different – it surprised me.

I stumbled upon the Morning Brew a few months ago and I can say for a fact that it has positively impacted my life. The free and short, 10-minute-read daily email, gives me much more than I ever expected: stock market recaps and highlights, up to date and unbiased business news from across the globe including who acquired who, current events, deals and lawsuits in the industry, and all related financial woes and wins. On top of all that, they use witty writing to keep it light. A major plus.

If you are/were a business or econ major, or if you are just interested in what's going on in today's business landscape (including all things media, auto, crypto, CBD, etc.), this is your one-stop-shop to know what's happening now.
Sponsored: Morning Brew – Your 5-minute news update, with a sense of humor. Sign up by clicking the banner below!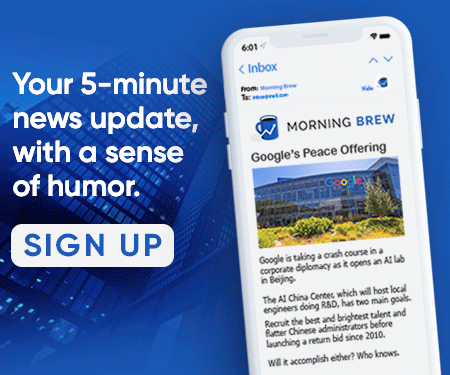 Pros:
You won't waste time researching articles to determine if they're credible or not. If it's in the Morning Brew, it's been fact checked and is not fake news.
You'll be able to hang with your dad and his friends when they talk about the stock market and IPOs. Maybe even start investing on your own.
You'll be able to start conversations about current events, in turn looking like the most interesting person at the bar.
I can't think of any cons.

Give it a shot and sign up today. It'll only take 30 seconds, I promise. Then check it out tomorrow morning while you sip your morning brew. Let us know what you think!