So you just turned 50, and all of a sudden you start seeing online ads for AARP, seeing the magazines everywhere you go, and getting the pamphlets in the mail. I know, you're just trying to come to terms with the fact that you are now 50 years old, all you need is another reminder that your mid life crisis is sure to start any minute now. Well I'm here to tell you it's time to embrace your new age with a new attitude. You now get to take advantage of senior citizen discounts all over town, so why not also take a peek at those AARP benefits? Is it worth it? I'll lay everything out for you now.

How Much Does it Cost?
An AARP membership costs $16 a year. But the more years you pay for in advance, the cheaper it is. See below for the discounted breakdown.

$63 for 5 years — $12.60 per year, with a 21 percent discount
$43 for 3 years — $14.34 per year, with a 10 percent discount
$12 for the first year if you choose to auto-renew — 25 percent discount
Sponsored: Purchase a new membership today and Save 25% off your first year by enrolling in automatic renewal
No obligation. Cancel anytime. Click the banner below.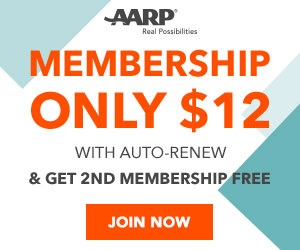 What Discounts are Included?
Members get a variety of discounts at the following popular stores and restaurants.
Retail: Tanger Outlets, 1-800-Flowers.com, Harry & David
Restaurants: McCormick & Schmick's, Saltgrass, Outback, Bubba Gump Shrimp Co., Denny's and Rainforest Cafe
Entertainment: Ticketmaster, Regal Cinemas, Cirque du Soleil
Home & Technology: AT&T, UPS Store, Consumer Cellular
What are the Travel Deals?
Rental cars: Members get a discount with several popular rental car companies, as well as a 30 percent discount on Zipcar memberships.
Hotels: Members get up to 20 percent off at several hotel chains, such as Days Inn and Wyndham Hotels and Resorts, as well as up to 35 percent off from Endless Vacation Rentals.
Flights: You'll get access to the AARP Travel Center Powered by Expedia, which has members-only flight deals, plus you're entitled to a discount at Park Ride Fly USA for off-airport parking.
Cruises: Members can get discounts on select cruises by Norwegian Cruise Line, Windstar and Grand European Travel.

What are the Health & Wellness Deals?
Exams: Members get a free hearing test once a year, as well as special rates on eye exams and eyeglasses at participating eye doctors.
Insurance: Members get access to exclusive insurance plans through the AARP® Auto & Home Insurance Program from The Hartford.
Medication: Members have access to the AARP® Prescription Discounts provided by OptumRx program and save an average of 61 percent on all FDA-approved medications
Family: Add a spouse or partner to your plan for free so you can both enjoy the benefits
Dating: Members can sign up for the AARP dating site and meet other 50+ singles who are ready to mingle.

This is only a small portion of the discounts and benefits you can get from an AARP membership. You can read the full list of discounts by checking out the AARP Member Benefits Guide.

As you're nearing retirement, I understand you want to be intentional with how you spend your money. I'll let you do the math, but if dine out frequently, travel, and want access to health and financial resources to assist in your retirement transition, it might be worth trying AARP for one year to see if you like it. That $16 you spent on the membership will be saved in no time.