I joined US HealthShare when I decided to quit my secure 9-5 career with full benefits and pursue my dream of becoming a writer. Being a single mom of 3, my kids are my first priority so I wanted to make sure I wasn't making any rash decisions, but also being true to my heart and dreams of my future. I had to make some big decisions about our life, finances and healthcare. I always had an employer-sponsored health insurance plan but that was soon coming to an end.
I started shopping around for insurance on the exchanges and prices for traditional insurance plans for my family of four started at around $1,000 per month with a $12,000 annual deductible. My mouth dropped. This was just for a Bronze plan. Getting a Silver, Gold, or Platinum plan meant prices would just go up from there, and was basically impossible with my budget. How was I going to make sure we were all covered if something catastrophic happened?
I kept researching my options and came across health sharing ministries, like US HealthShare. Health sharing ministries aren't insurance – they're groups of like-minded people who come together to share healthcare expenses. You pay a monthly fee, similar to a healthcare premium with the promise that your healthcare expenses will be covered once you meet an "unshared amount" similar to a health insurance deductible.
After much research, we decided to go with US HealthShare. We felt like their values and morals aligned with our faith more than any of the other ministries. The benefits of US HealthShare as we saw them included:
A low monthly sharing amount, similar to a premium (was $531 for our family when we joined)
Low annual unshared amount, or out-of-pocket contribution, similar to a deductible ($1500 for my family)
Eligible medical bills up to $1,000,000 per incident can be shared
Joining US HealthShare saved my family roughly $470 per month and a considerably lower ($10,500+!)  annual unshared amount. So, after some planning and careful consideration, that's what we went with.
Sponsored: US HealthShare – Christian Medical Health Care. Find the right plan for you today! Click the banner below.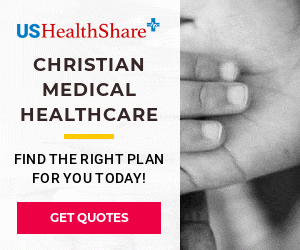 It's been about 3 years since we joined US HealthShare and I am mostly pleased with how things have gone so far. The claims process is grueling and prices have gone up slightly over the last three years we've been in the program, but that's typical for the healthcare industry so that wasn't too much of a surprise.
On the upside, we have easily saved over $30,000 on healthcare expenses over the five years we have belonged to US HealthShare. I say that because we have saved a minimum of $470 per month, which works out to $5,600 per year or $16,920 over three years. We also saved a minimum of $15,000, when we had 2 major claims (raising 3 young boys, things are bound to happen!) since our ACA deductible would have been at least $10,500 more than our out-of-pocket maximum with
US HealthShare
.
While using a health sharing ministry isn't entirely ideal, I definitely believe the $30,000+ in savings we've accrued so far has been well worth it. I highly recommend looking into a healthcare sharing option if you find yourself out of the typical 9-5 with benefits. You could save tens of thousands!